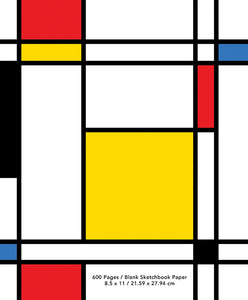 The World's Largest Sketchbook: Neoplasticism Abstract Art
Vendor

Young Dreamers Press

Sale price

$31.00

Regular price

Sale

Other Retail Partners
Adding product to your cart
The World's Largest Sketch Book is a unique sketch pad for artists, designed to be as beautiful on the outside as the future works of art it will hold on the inside. In addition, this sketch book is perfect for any prolific artist, with over 600 PAGES of drawing space - making it truly the largest sketch book you will find on the market!
Blank Sketchbooks are perfect for:
Stocking Stuffers & Gift Baskets
Birthday & Christmas Gifts
Graduation & End of School Year Gifts
Summer Travel
Teacher Gifts
Art Classes
Doodle Diaries & so much much more...
Additional Information
Weight - 1.67kg and 1.37kg
Dimensions - 21.59 x 3.1 x 27.94 cm
Ages - 6 and Up
Author Name - Young Dreamers Press
# of Pages - 602
Hardcover ISBN - 9781989387085
Paperback ISBN - 9781989387078
Series - World's Largest Sketchbook
Volume # - 1
Use left/right arrows to navigate the slideshow or swipe left/right if using a mobile device