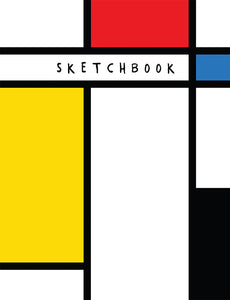 Sketchbook: Neoplasticism Abstract Art
Vendor

Young Dreamers Press

Sale price

$22.00

Regular price

Sale

Other Retail Partners
Adding product to your cart
There is something magical about a blank book or pad waiting to be filled with your own work. Whether it's a beautifully detailed sketch or a fun doodle, this sketchbook is perfect for creating your masterpieces. Filled with 100+ blank pages, it will be perfect for teens or tweens as well as adults or students who love to draw or create their own stories. With standard 8.5"x11" sized pages and available in both paperback and hardcover formats this unruled book is perfect for while at school in the classroom or even at home.
Blank Sketchbooks are perfect for:
Stocking Stuffers & Gift Baskets
Birthday & Christmas Gifts
Graduation & End of School Year Gifts
Summer Travel
Teacher Gifts
Art Classes
Doodle Diaries & so much much more...
Additional Information
Weight - 560g and 280g
Dimensions - 21.59 x 0.79 x 27.94 cm
Ages - 6 and Up
Author Name - Young Dreamers Press
# of Pages - 108
Hardcover ISBN - 9781989387061
Paperback ISBN - 9781989387054
Series - Sketch Book for Artists and Students
Volume # - 1
Use left/right arrows to navigate the slideshow or swipe left/right if using a mobile device